------Est. 1980 Piping Perfection------
click on the banner for our home page
---
Dear Piping Enthusiast,
It's a warm welcome from all of us at Piping Perfection. These are difficult times as we come out of the pandemic and into big trouble in Europe. It would be nice to get back to the days when our biggest worry was whether or not we would win or get a place in the next competition or if the weather would be miserable at Glasgow Green after travelling for many hours to get to the Worlds or if my pipes will stay in tune or …….you get my drift and thoughts of such distant but happy days.
Anyway, it's business as usual and thank you all for your continuing custom.
We have reduced the frequency of our newsletters a bit since there really has not been that much going on in the Piping World to be honest and you can see that as well from other online sites. However, there are definite signs of things picking up, with lots of sheepskin bags going out the door to police bands, army regiments and very notably, our good friends in the City of Chicago PB. As an alternative to sheep for some people, cow hides are inexpensive, easy to fit and cope a bit better in hot climates as we seen with orders from Texas, Oman and the likes.
I have enjoyed having my daughter Lisa helping out over the last couple of months, prior to her resuming her civil engineering masters with a spell in Austria for 4 months - that's a beautiful country and she will have a great experience for sure.
We are getting into events in Scotland again but the Worlds won't be the same this year with most overseas bands opting not to travel due to the Covid hangover. It may all come down to the Scots versus the Irish but I am staying neutral on this one – I have many Irish customers as well as a lovely Irish niece whose wedding I played at in County Kildare. Brother Bill was on the fiddle and we had a great time with the Scottish contingent fully kilted as you would expect – and it was lovely to see my nephew's male support from South Africa, Zimbabwe and England all splendidly turned out in highland attire too.
Yours aye,
James C. Begg
Piping Perfection
---
Special Sale - courtesy of Mrs I.C.Macdonald

Some time back I assisted in the sale of some books belonging to my old Glasgow Highland Club friend, the late Iain C. Macdonald. I have been approached again by Mrs Macdonald to assist in the sale of some of Iain's pipes and bits and pieces. I am only too pleased to do so and we are also fortunate to be in possession of some notes Iain made about his piping history and on the Piob Mhor pipes below – click here to read Iain's thoughts.
To see bigger and better photos of the items, please click on the relevant thumbnail.
If you are interested in any item or require further information, please email me on james@beggbagpipes.com or call on ++447906596927
*********************************************************************************************************************
A lovely set of Piob Mhor Hardie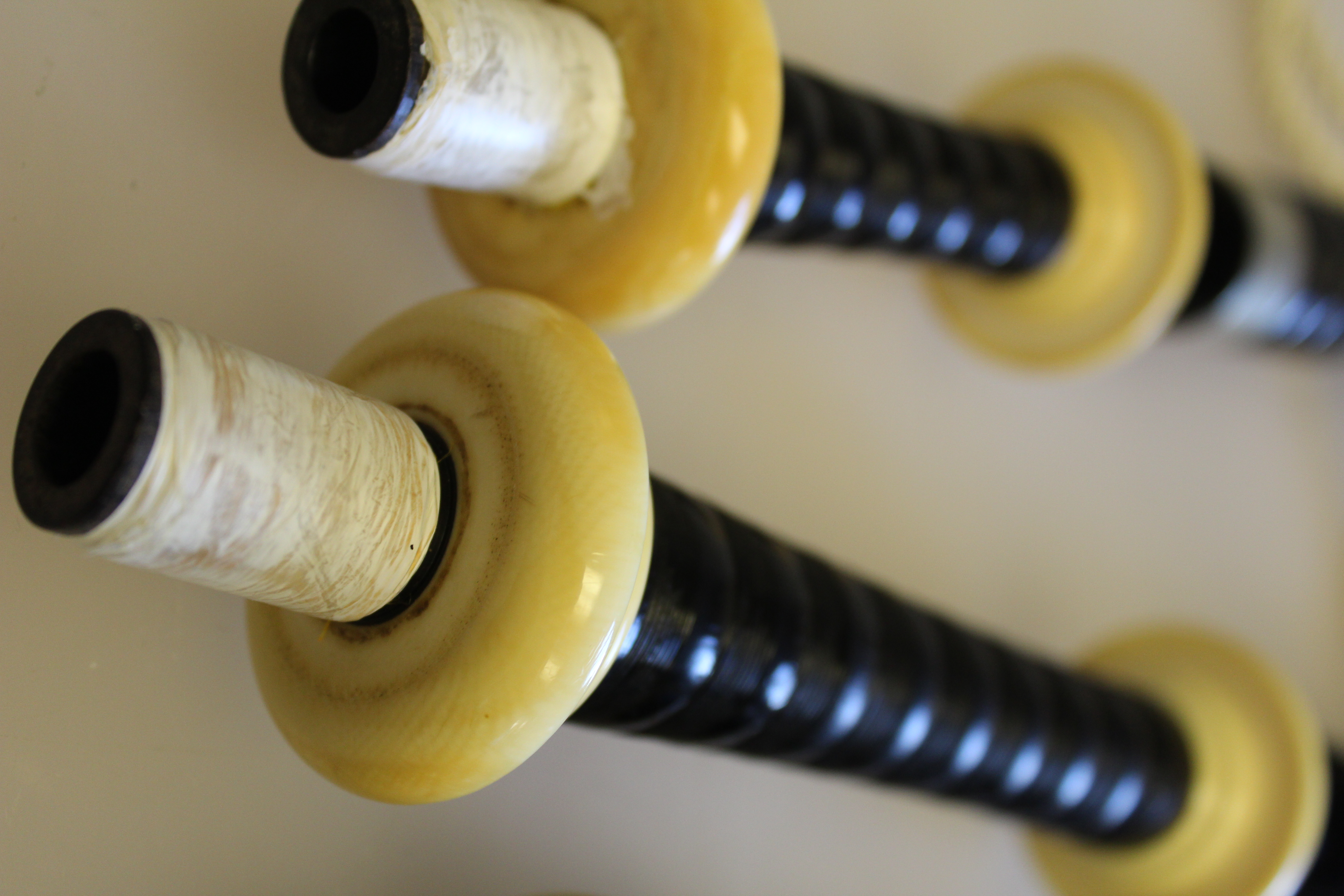 This is the Piob Mhor Hardie set that Iain refers to,
from circa 1958. They are in great condition with
nickel ferrules and real ivory mounts - and come
with a Kintail chanter, a modern swivel blowpipe
and a brand new Canmore bag. Priced at £1500
*********************************************************************************************************************
A selection of bits and pieces
1. Canmore Bag medium £50 2. Canmore bag medium circa 1998 £45
3. Warmac silver hallmarked synthetic chanter with thistle design £250
4. Hide bag in good condition by John Weston and autographed by John Patrick £50
5. McCallum chanter with reed protector £45
6. R.G Lawrie all blackwood practice chanter £60
7. Selection of drone reeds – click through to see what's available £80
8. Sheepskin bag in good condition and good stitching £50
---
Field Report - How's your Edre?
I have been noting some interesting comments on piping media about how to play the edre, a crunluath and all the movements that are the life blood of the classic tunes. It made we wonder why piping appears to be so obsessed with technique to the point of maybe getting an OCD diagnosis. I went to see Alfie Boe and Michael Ball over Christmas and didn't see the need to critique their intonation or tonal quality. I enjoyed the music as it was without any desire to try and pick out possible flaws or errors. I think you see what I'm getting at.
Are we in danger of over analysing things and losing the music in the wake of over scrutiny? Technique of course is very important and without a strong study of your doublings etc then it is pretty hopeless but how many times do we see the winners of competitions actually winning with brilliant technique but delivering zero on musical interpretation? If we placed greater emphasis on musical performance then I'm sure we would get greater attendances and support – this would be especially relevant at the moment as we try to get our piping world back together again. The annual Uist and Barra, which has been re-scheduled for later in the year, sets the standard with excitement, entertainment, fun and showmanship alongside technical excellence so let's promote more of that type of event.
What are your thoughts? Are we overly analytical? Please do let me know.
Is it time for more variety on how we play movements and select tunes? If we all play the same tunes in the same manner, it all gets to be pretty boring as we can see in some of the pipe band MSRs
Did Angus Mackay worry about technique? I will need to ask Iain Macdonald who's got an insight into Angus Mackay's mind. Iain's book, I Piped That She Might Dance, tells the story of Angus who was one of Scotland's greatest ever musicians and first piper to the Sovereign. The book is stunningly well produced and really tells the story of how someone so young as Angus could produce such quality.
Hope your edre is exquisite in The Glen is Mine - if not, then the Glen may not be yours technically but hey, above all else, deliver your best musical performance of this great piobaireachd.
---
In Passing.......a new product line
A sheepskin bag is the power behind every piper and should be cherished and nourished but a friend has sent us a new angle and perhaps a new business opportunity for man's best friend - click here

---
YouReport
If you would like to report on any aspect of the Piping World from wherever you live, or if you would like to comment on any articles or issues, we'd be pleased to hear from you. Email to bill@beggbagpipes.com
---