------Est. 1980 Glasgow city centre's oldest bagpipe shop------
click on the banner for our home page
---
Newsletter - December 2010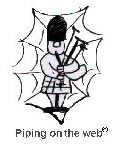 Yuletide is here quicker than you can say Jack Frost. Best wishes to you all and thanks again
for your custom and support. Without customers, we do not exist and that is why I thank you. I will not go into the usual marketing speak other than to say it's been a very busy year and it has disappeared. My New Year's wish is of course for more of the same and to be better organised - the word on Begg Bags continues to spread which is very nice so I need to get myself and my co-conspirators into another gear to be able to cope - we will, of course, and are ever mindful of the over-riding importance of top quality. Thanks to all of you who responded to my question about whether or not we should become an online business only. A few said we should be online only but the majority would like us to retain a physical shop. This actually is an interesting point in that I have spoken to 5 other bagpipe retailers who think they will become online only - another good reason for Begg Bagpipes to retain our shop. We may have to move round the corner from where we are now, since my landlord has aspirations to turn my shop into a trendy bar - Bath Street is definitely the in-place to be in Glasgow - a bit like the Left Bank in Paris,
the Plaka in Athens or the Bund in Shanghai!
Enjoy yourselves over the Festive Break wherever you find yourself.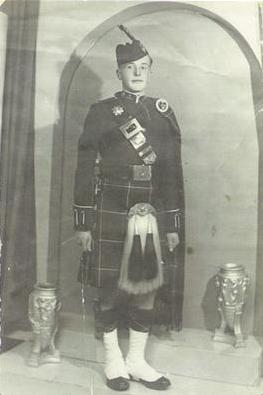 It is with sadness that we report the loss of a great friend of Begg Bagpipes - John Hamilton. After a lengthy illness, he passed away on 8th November and will be sorely missed. James played at his funeral and rather than the standard tunes normally associated with a funeral, he played two of the top 3 tunes that John had nominated in our Newsletter of November 2008.
1. Inveran - a traditional 2/4 March by P/M G.S. MacLennan.
2. Arthur Bignold of Lochrosque- a traditional 2/4 March by John MacColl.
John will be remembered as a person who was available to help anyone and who would pass on tips and techniques from his vast knowledge of, and skill with, the Great Highland Bagpipe. His business experience and expertise were also crucial in the development of Begg Bagpipes as he guided James in the early years. John, thanks for everything.
A-Z of Piping - a Personal View by James C. Begg
Greatness perhaps only applies in piping to a specific moment in time - great, because I won such and such a competition so it must have a very good performance - but why is it that playing an equally great tune the next time and performing equally as well, I didn't win again? It's all rather subjective so it may be better to just have a tune and enjoy that tune for all its worth and greatness. We tend to be very critical within piping circles and it can be a bit off-putting for many people. I have often thought that competition-oriented piping is not necessarily the healthy option
and nowadays, we are seeing a wider divergence of piping application and interpretation i.e. orchestras,duets, kitchen piping which almost verges on jazz etc. We should however be wary of going too far
.
Some of the more way-out ideas will be tempered to an extent by piping's long and robust traditions and I for one would encourage innovation only if it is worthy. On one hand, competition is an aid to achieving a high standard and in honing your technique but on the other hand, we have virtually the same small clique of guys winning year in year out. We definitely need our Champions who set the standard and there are a few who know how to win. They also need all sorts of other attributes in addition to their piping ability - a strong nerve, the will to compete, the drive to be first, competitive experience, a practice till you drop mentality, some degree of selfishness and so on. But does winning make them Great if you look at the bigger picture?
Piping Greatness in my view is best defined by the people who devote themselves to others - the late Joe Wilson was a classic case as well as the late John Hamilton. They did not look for the trappings of gold medals but rather in the promotion and development of piping and pipers, and in the sheer enjoyment of playing and listening to piping music. There are many others around the world who may not be great piping technicians but who encourage others, teach youngsters, run bands, raise funds, organise events and so on, to name but a few of such hugely time consuming matters. These people are a silent, largely unknown and completely dedicated body of people and for me, they are the GREATS! If you are one of them, you will know it and we all owe you our deepest thanks.
The 2010 Begg Bagpipes Competition for Fanatics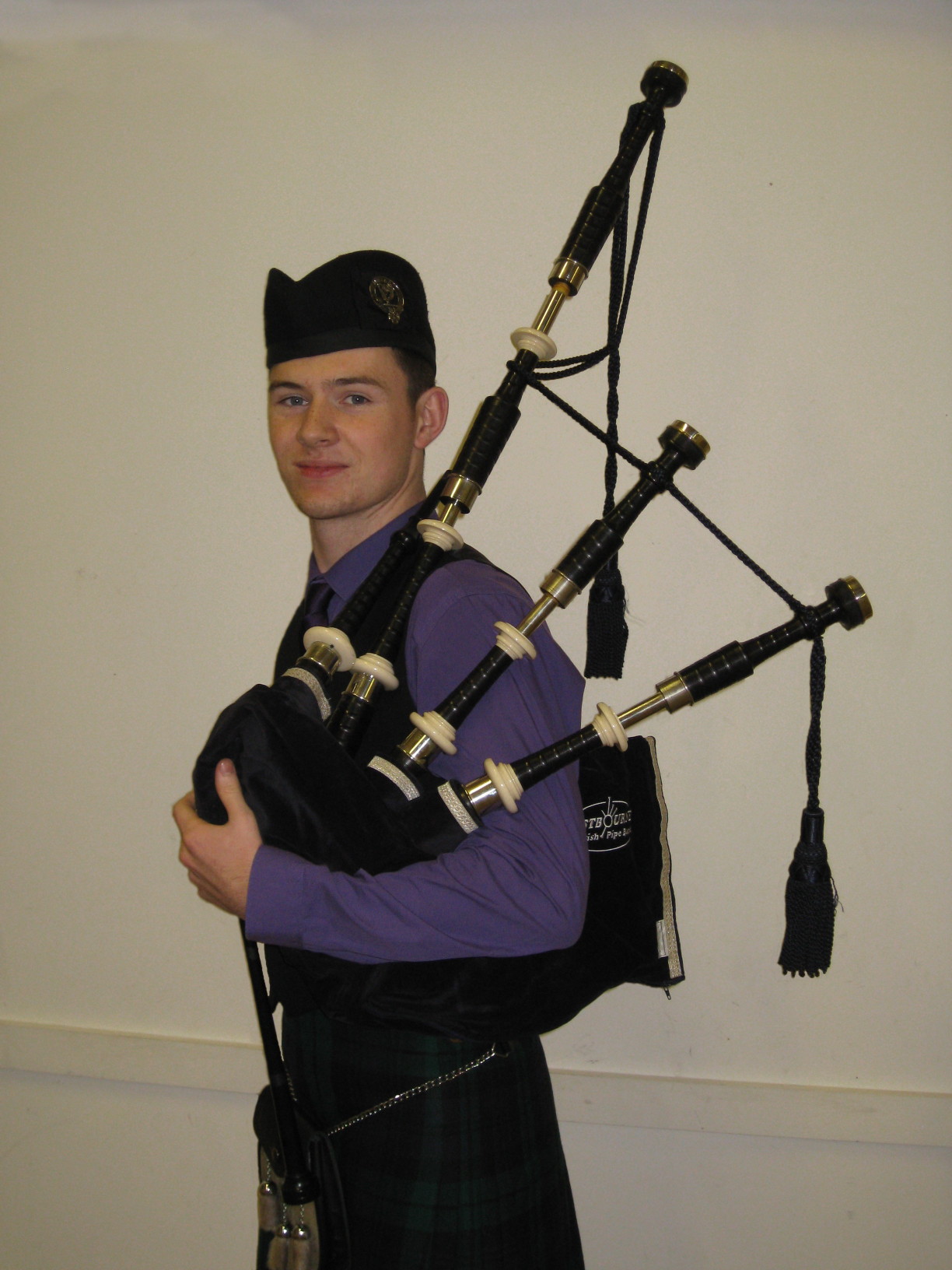 Well, we suspected there are Fanatics out there in the Piping World and we were not disappointed. Thanks to all of you Fanatics who took part in our Competition and we have a winner - 17 year old Tom Curd from Hailsham, East Sussex, England. His father and mentor, Dave Curd, gave us the comprehensive story behind his son's fanaticism towards piping and the following is a summary of what he said:
We definitely have a fanatic - someone who is marked or motivated by an extreme,unreasoning enthusiasm for bagpipes & an unbalanced, obsessive behaviour towards its music. Whilst still studying for his A levels, and aiming to become a Maths teacher, he manages to fit in the following:
1. Plays with 3 bands - Eastbourne Scottish, Gatwick Caledonia and Inveraray and
2. Started and runs an after-hours College Piping and Drumming Club.
3. Composes and arranges pipe music.
4. Co- author of a band's website.
5. Is involved with band management, tuning, and arrangements.
6. Travels thousands of miles per annum in the name of piping.
7. Immersed himself in Piping and Scottish culture, by working the summer in Argyll and
learning from the players and supporters of Inveraray and District Pipe Band.
8. Plays at any available opportunity including informal "street" events.
9. Lives, breathes and thinks piping all the time and if not playing the pipes, always has his
practice chanter in his mouth.
Bearing in mind that he is English, with no known Scottish connections and no previous musical background in his family, Tom's dedication to his own piping development and to piping in general, is clearly that of a Fanatic and we are proud to declare him to be the Begg Bagpipes Fanatic for 2010 - we wish him well for the future.
p.s. if you needed any confirmation that he is a Fanatic, you may like to know he is planning a trip to Glasgow to specifically pick up his trophy from James in person.
Technical Academy

-What Tune to Play
Selecting tunes can be a tricky problem. You need to play tunes within your own ability and I for one have not always followed this rule. Whilst you may think Mrs MacPherson of Inveran is a great tune, very few players can do it real justice. The advantage of the tune even if played badly is that it has a strong melody. Essentially, this tune needs to flow but at the same time strong hands are needed with deep heavy movements to achieve a strong finish to each part with an emphasis on the d. Lift is an important point too. It is also very easy to confuse the parts and whilst this tune is brilliant in many ways, there's a lot more to it than you may think. Gordon Walker does it justice with his bullet like approach. You also need to develop good taste - some may be lucky enough to be born with it but others have to work on it. Listen to people's opinions and always take the view that there is more to that tune than I realise. Play tunes that suit your own style - these will flow and come across better. By way of an example, I play in a roundish style so I'm not that keen on the likes of The Smith of Chilliechassie - a great tune but not for me. P/M I MacLeod of Edinburgh Police was a master of it and I suspect my round playing style was not up his street - Iain had a cutting style of playing. John Morrisson of Assynt House and The Sheepwife are other great tunes - technically demanding but again not my style - great if you want a style change but to get them going is very hard and you would have to play them a lot to achieve what is required. These tunes are brilliant if you get them right but more often they can "end in tears".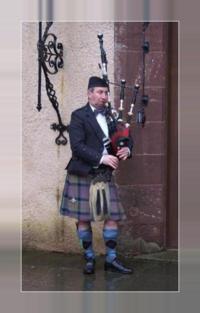 So look for a variety of tunes with different complexities to give you variety but stay within your own ability. Try to pick from the main repertoire of classic tunes - if you deviate too much, then your taste may get more and more extreme and people listening will switch off just because of poor tune choice. Playing a tune poorly on a good pipe is not the way to go. It is important to get the tune choice correct and don't shy away from a particular tune just because it may be perceived to be easy. Also, play what is appropriate for the setting you are in and for the audience in attendance. For example, play the brilliant, but fairly easy Earl of Mansfield at Scone Palace or as I did at my nephew's wedding at Fyvie Castle, the very lyrical Bonnie Lass of Fyvie. Nobody wants to hear a piping bore. It's all very well to tune, tune, tune, tune when playing for yourself at home, but when you are elsewhere, get your pipes ready in advance, select the appropriate tunes and entertain the assembled audience. (Photo is of James at Fyvie Castle, Aberdeenshire)
Online Special Offers - Christmas Special!!
Treat yourself or a friend to 10% off Practice Bagpipes or our Practice Chanter Starter Kit. These offers are for the month of December only and remember, if you are in an EU country, V.A.T is rising by 2.5% on January 1st to 20%.
YouReport
If you would like to report on any aspect of the Piping World from
wherever you live, we'd be pleased to hear from you. mailto:bill@beggbagpipes.com