------Est. 1980 Glasgow city centre's oldest bagpipe shop------
click on the banner for our home page
---
Newsletter - February 2012
Dear Piping Enthusiast,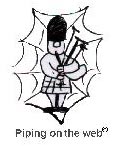 Welcome to our first newsletter of 2012 and best wishes for a successful year from both a piping and personal perspective. Despite the economic gloom, business is buoyant and we look forward to building on last year's success. I have increased production and hopefully this will cater for the massive sheepskin bag demand we are currently experiencing (we are now working Sundays which was previously unheard of.) The City of Fredericton Band in the province of New Brunswick, Canada will receive their order for 17 bags shortly by UPS, and more locally to me, Coalburn Pipe Band in Lanarkshire are next up with 15 bags. Along with Denny and Dunipace renewing some bags, it's interesting and encouraging to see that bands further down the grades are converting to Begg bags and service. An investment in sheepskin bags can present quite a financial challenge to some bands that don't have the benefits of substantial sponsorship - if a way can be found however, the outcome in terms of sound, tone and pleasure is well worth it.
---
News
John MacDonald of Pasadena, Texas produced and directed the Spirit of Scotland film "On the Day" and was over in Scotland for their Celtic Connections concert. He was telling me that he is planning a "Piping - Route 66" charity trip in late spring and I understand that Stuart Liddell, Angus MacColl and J Kilpatrick amongst others are lined up for this unique event. It sounds interesting, so much so that he persuaded us to donate a bag to help with the funding- I'll keep you posted when I hear more.
Talking of support,
we have made a small contribution over the years to the Uist and Barra Solo competition and the next one is scheduled for 10th March at the College of Piping, Glasgow. It is always a good event to attend and a generous welcome awaits you.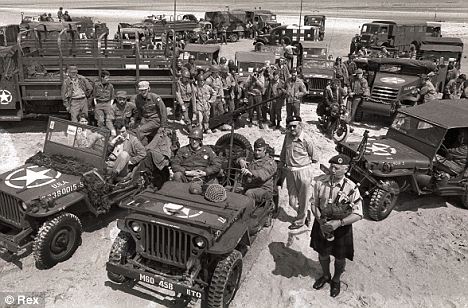 I went out the other night with my girlfriend to see the film War Horse - if you think the horse had a bad time, what about the brave piper in the trenches? There were terrible scenes but of course, the pipes have had an important role to play in many wars over the years. The most famous in recent history was that of Lord Lovat ordering his personal piper, Bill Millin, to pipe the commandos of 1st Special Service Brigade ashore as they landed on Sword beach during the Normandy invasions of World War Two. When reminded by Private Millin that this type of activity was against regulations, Lord Lovat replied: "Ah, but that's the English War Office. You and I are both Scottish, and that doesn't apply." Bill Millin's final performance for Lord Lovat was at his funeral in 1995. (Photo shows Bill Millin piping at the 35th Anniversary of the D-Day Landings.)
---
A-Z of Piping - a Personal View by James C. Begg
P is for Piping Perfection
P could stand for many things, but there can only be one winner since the Begg Bagpipes' strap line is Piping Perfection. That of course is a rather bold statement to live up to and was not even on the horizon when I started my business way back in 1980 in the front bedroom of my mother's house in Glasgow. In these days, it was more a matter of survival and everything was rather hand to mouth - I didn't have a grandiose business plan charting the future growth and development, and took things as they came along. In the Piping World, a lot of it has to do with personal contacts, reputation and word of mouth. I have been fortunate in receiving a strong playing foundation over the years from Duncan MacFadyen, Seamus MacNeill, Duncan Johnstone and Eddie MacLellan, a solid manufacturing base from my time at Grainger and Campbell and absolutely priceless business advice from the late John Hamilton. All these ingredients, along with my own drive and focus on quality and customer service have made us what we are today and I am proud to say that our customer base reads like a Who's Who of Piping. It has not all been plain sailing of course - we have had our run-ins with the odd awkward member of the public, one of whom claimed to hate bagpipes, the occasional late ( and sometimes very late!) payer, landlords bumping up the rentals, shop break-ins, and so on. It has all been worth it when I look back to the early days and see the success of some of our clients - for example, around 1990, there was a certain young Stuart Liddell and his Mum asking for advice on bags and reeds; at the College of Piping in the 70s, I had the weekly "grilling" which was disguised as a lesson, along with none other than Roddy MacLeod who has remained a close friend and customer- hasn't he done well; and there are many more successful pipers and bands I have had the privilege of lending a helping hand to along the way.
We are continually looking for improvements in all aspects of our business, since if you think have reached "Perfection", you almost certainly will be going backwards. So Piping Perfection is a goal we strive for - it has been a happy and enjoyable road so far and long may it continue.
---
Glasgow Concert Hall, 28/1/12
This midday concert featured Lothian and Borders Police and the unique Spirit of Scotland – you may recall that the latter is a line-up of stars from the world of solo piping, successfully assembled and led by Roddy MacLeod. Ian Anderson compèred the concert in his own inimitable style and seemed more relaxed than usual. Lothian and Borders started off with melodic tunes and settled into a nice rhythm under their new Pipe Major Neil Hall of the Army School of Piping. Their tone was arguably a bit light but they got away with it in this indoor setting. The Spirit of Scotland delivered excellent performances as you would expect with a solid tone and Roddy has managed to mould his talented individuals into a great band – there is no sign of any personal egos conflicting with the unison required in a band environment and I suspect this was no easy task. There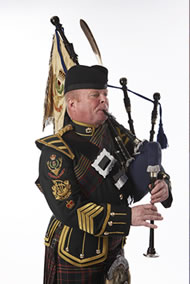 were a number of varied interludes between the piping, including some gaelic singing, drum salutes and so on but the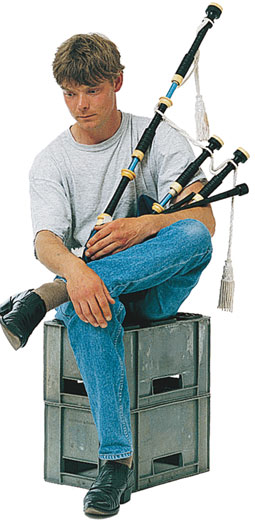 undoubted highlights of the concert were the very moving tributes to two great but sadly departed icons of the piping world – Gordon Duncan (left) and Alisdair Gillies (right). Lothian and Borders played Gordon's composition The Sleeping Tune and with Gordon's older brother Ian and Gordon's nephew Ben taking the main roles, no-one in the audience could have failed to have been moved by the brilliance of the music, the excellence of the orchestration and by the memory of Gordon. Spirit of Scotland performed Caber Feidh Gu Brath or Deers Horns Forever, which is the motto and regimental toast of the Queen's Own Highlanders. It was a fitting tribute to Alisdair that the Band reached their peak performance at this point, and the superb musical delivery was complemented by a visual display of Alisdair's life with his family, in the Army and with his beloved Rangers F.C.
So it was a great concert and thanks go to all those involved, both on-stage and behind the scenes.
---
February sees the return of our three part competition - Name That Tune. In each of the months of February, March and April, we will give you the opening bar of a mystery tune and all you have to do is to name that tune.
If you get all three correct, and are the only person to do so, you will win the choice of a hand made Begg chanter or practice chanter. If there is more than one set of correct answers, we will carry out a draw to get a result.

So here we go with the first one.
Please email your answer to Bill on bill@beggbagpipes.com
---
3 sets of used pipes reduced from £ 500 to £450, all in good condition.
One is full imitation ivory mounted and two are nickel and
imitation
ivory mounted
- please phone for more details. ++44(0)413330639 or email us
---
---
A Passing Thought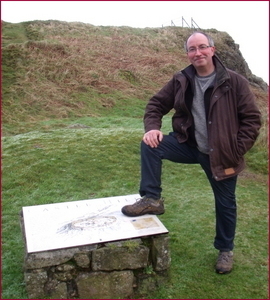 As I walked the line of the scant remains of the Roman Antonine Wall near Kilsyth in the Central Belt of Scotland, my thoughts moved from the lovely sunny day and from the bonnie lass at my side, to matters of a historical nature. Could it be that in addition to the fiddle, Nero also played a pipe when Rome burned? There is ancient reference to Nero playing a tibia utricularis, a Roman reed pipe and it could be that the Roman garrisons manning the wall to keep out the fearsome Caledonians also played such an instrument. Bagpipes as we know them today, developed over the years, as bags and drones were progressively added to the basic pipe. The Romans gave the world so many things in terms of culture, engineering, organisation, civilisation and so on, and it may be that they also spread the love and use of the pipe as they created their great empire.
(Photo shown is that of an ancient ruin - there is also an old wall in view. Ed)
---
YouReport
If you would like to report on any aspect of the Piping World from wherever you live, we'd be pleased to hear from you. mailto:bill@beggbagpipes.com