------Est. 1980 Glasgow city centre's oldest bagpipe shop------
click on the banner for our home page
---
Dear Piping Enthusiast,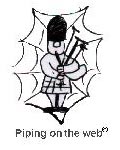 Well, we are getting near the peak of the season in the Northern Hemisphere and many of you will be gearing up for a trip to Scotland for the Worlds, Piping Live! and possibly Cowal. Please call into the shop and say hello, or catch us on Tuesday 7th August from noon at the marquee outside the National Piping Centre. We will have performances from The City of Regina mini-band and Barluath from the Royal Conservatoire of Scotland - check Piping Live! website for full details. Begg products and lively banter(!) will also be available
.
We are pleased this month to publish contributions from two American pipers, Bob McMichael and Shawn Husk, and we hope you enjoy their reports.
James C. Begg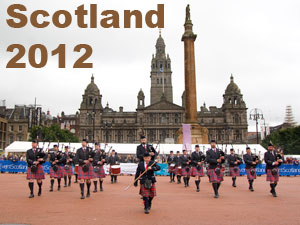 ---
I have come into the possession of a 100 year old set of Macrae pipes, which are full ivory and have nickel slides. They will receive some Begg "TLC" (tender, loving care) and will be restored to their former glory. With Donald MacPherson's pipes going for some £30,000, these pipes do not carry the same unique piping history and therefore won't be in the same league financially. However, for a fraction of that amazing price, they will sound really great, and will be looking for a good home. They come with a history of the owner dating back for a century. Photos to follow in a subsequent newsletter. Please let me know if you are interested in receiving more details.
---
A-Z of Piping - a Personal View by James C. Begg
- V is For Vanquish
or Verify
How many absolutely ridiculous myths have you heard in the piping world? It's probably due to fact that nothing much is in print, and so folklore and stories evolve. Here are some myths which we may wish to Vanquish or Verify - please forward your own opinions.
James Begg has made a fortune making bags and drives a Ferrari - Vanquish - he drives a Mondeo.
All sheep were contaminated by Chernobyl radiation and now there is a severe shortage of sheepskin bags - Vanquish - complete nonsense. The market was manipulated and that story was absolute tosh.
A metal ball in the sole of a silver chanter gives a ring to the high A - Vanquish - I doubt it.
A leather bag improves depth and tone - Verify - no discussion needed; try it yourself.
The results of some competitions must mean that Judges have other agendas - Vanquish - probably not, but they always seem to be the whipping boys.
The harder you blow, the better the sound - Vanquish- all you get are more hernias.
You play better if you go "commando" - Verify- such freedom allows for greater musical interpretation. Anyone care to comment?
James Begg only makes and sells bags - Vanquish - hand made bagpipes and a full range of piping accessories are available.
You can only win World Championships if you are Scottish - Vanquish - well off the mark these days - the opposite looks true.
Sheepskin pipe bags only work in cold climates - Vanquish - try telling that to our customers in Oman, Saudi and elsewhere.
---
Field Report
- Bob McMichael, An American Piper in Scotland - part 1.
I wasn't sure how I'd be received in Scotland by the bagpiping establishment, if such a thing existed. I also wasn't certain how non-piper Scots would perceive the instrument in general, and my playing in particular. I'd been to Scotland once before this, long before I knew anything about piping, and was unable to extrapolate from my memories of that trip how these questions might get answered. In short, I had a bit of anxiety about everything, but was also very excited. I'm very happy to say things worked out such that—when we got home—I felt like I'd returned from bagpipe fantasy camp.
Glaswegians
The reason I enjoyed it so much lay mainly in the people I met in Glasgow. We stayed at The Pipers' Tryst Hotel adjacent to the National Piping Centre, and the staff was amazingly hospitable. Same with the staff at the Piping Centre: Tracey Williams, a top-level piper (which I'm embarrassed to say I hadn't realized at the time) coordinated my lessons with Glenn Brown and Chris Armstrong there, and gave me an excellent referral for a kilt maker in town. The lessons with Glenn and Chris were excellent in many ways, and each helped me adjust to my brand new Begg sheepskin bag (more on that below), with tips on maintenance and storage.
One of the highlights of my whole trip was attending a Scottish Power Pipe Band rehearsal. Glenn Brown invited me and also kindly arranged a ride to it with some of the pipers. It was wonderful being able to talk with pipers of that caliber who were so young and personable. Each of the three was in their early 20s, and didn't seem to find my incessant questions about competition, piping culture, instruction, buskers, and whatever else annoying. It was like talking with real people, something I wouldn't expect from similarly aged Americans interacting with a foreigner a generation older. On the other end of the generational spectrum, Jack Henderson, who introduced himself to us as the band's secretary and appeared to be in his mid-60s, was keen to chat about anything pipe related. He'd been a member of Scottish Power's former incarnation for many years, and was a delight to talk with while the musicians were setting up.
Once the rehearsal started, and all the way through it, I could hardly believe how good it sounded. Considering Scottish Power's excellent result in last year's World Championships, though, I shouldn't have been surprised. But this was my first live exposure to a pipe band of that caliber. It was fantastic.
The Bag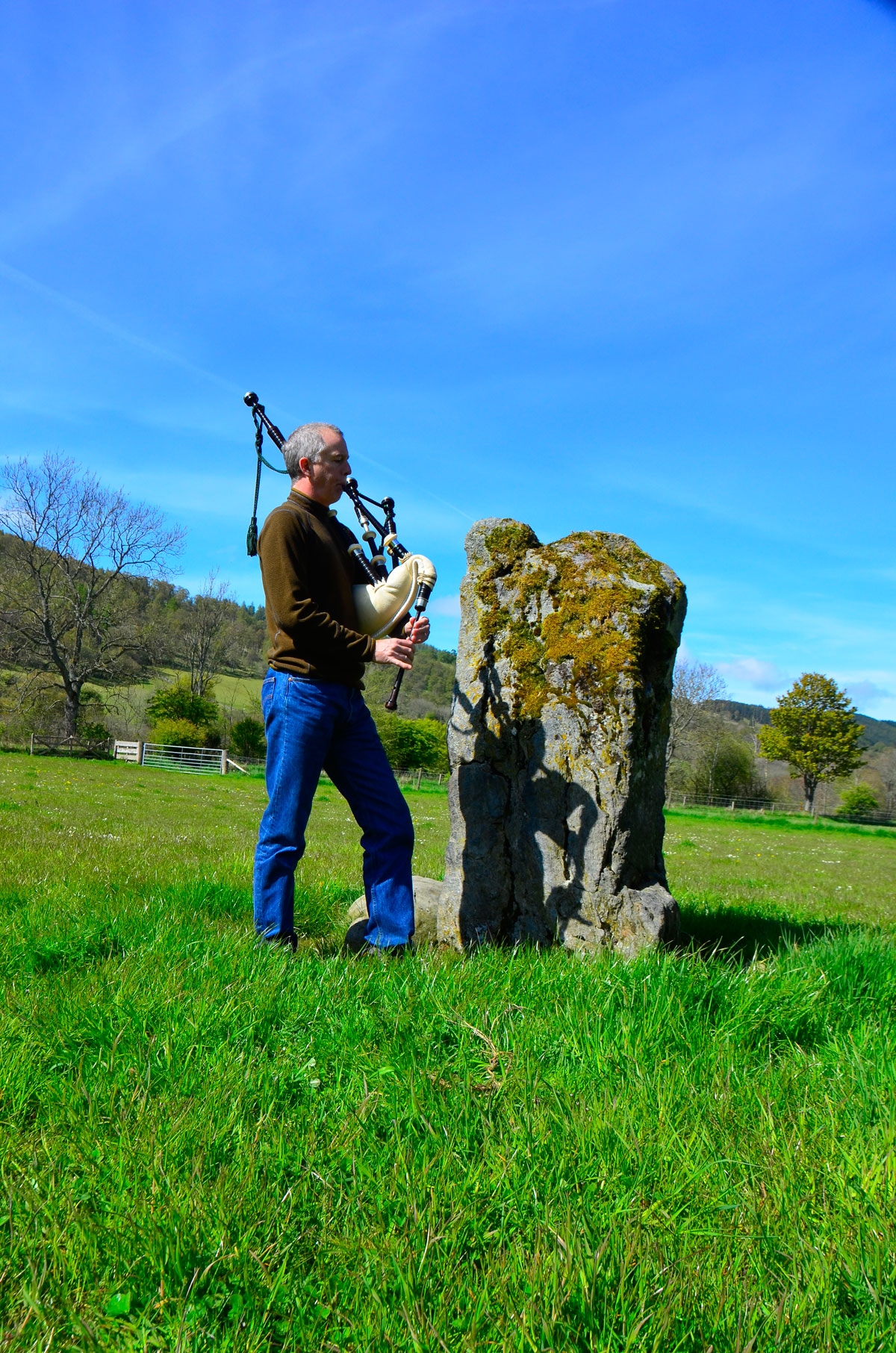 James C. Begg's Quality Bagpipe Shop occupies a basement flat not far from the center of town. I brought my pipes there to have the bag changed from my fading zippered Gannaway hide bag (which lasted over three years) to my first sheepskin bag. I wanted to watch the fitting, but—not knowing what was involved—was talked out of it by James. He said it normally takes two to three hours, and if someone's watching doubles the time. My lesson was early that afternoon, so I was cutting it close as it was. Luckily, James had some spare time (his assistant was doing the fitting back in the shop) and I got to have a nice chat with him over a pint in a nearby pub. For someone who supplies many of the top pipe bands in the world, including Scottish Power, all of its bags, James is remarkably laid back and down to earth, and a real pleasure to chat with about music and anything else that comes to mind. We talked at length about how to maintain the new bag, when to season it, how to manage the moisture using the split stock and tube, and all sorts of other things. For him to take time from his busy schedule to sit down with a novice piper from the U.S. really impressed me.
When the fitting was completed I settled up with James and headed back over to the NPC just in time for my lesson. Glenn first inspected the bag, and gave it a big thumbs up. "You can tell this is a good bag because it's a thick, uniform skin with a soft—not rough—outside," he said. (Chris Armstrong, in a lesson I had at the end of our stay, concurred with Glenn on the quality of the bag.)
Glenn helped me set up the pipes and talk me through the strangeness of the new bag. It was a different shape than my old bag and stiffer, which is normal for a new sheepskin bag. We had to mess with the blowpipe length a little at first, but it wasn't a big deal. My most immediate impression was that the tone of it was very rich, which I hadn't expected because I really liked the sound from the Gannaway bag. This was better. Even though I couldn't play for very long at a stretch because of the adjustments to the different shape and feel, the sound was noticeably more vibrant. Glenn could see I was frustrated with the different shape and told me that it wouldn't take long before the bag adjusted to my body and got very comfortable. (After playing it less than a month, I can say he was right.) Later that day I was curious about the airtightness of the bag, so I checked it. Even after just the initial seasoning done at the shop that day, the bag was more airtight than the best tightness I got from the Gannaway bag, which really surprised me. I've since checked it many times, after seasoning it twice, and it is still the most airtight bag I've had.
I had many other piping-related experiences that were unforgettable on this trip, and hope to share them in the next issue of this newsletter. Suffice it to say, though, that this American piper's experience in Scotland was overwhelmingly positive.
Bob McMichael, Boise, Idaho, U.S.A
Photo shown: Bob playing at Claver's Stone, where Viscount (Bonnie) Dundee died after winning the Battle of Killiecrankie in 1689. It's in a farmer's field, unmarked.
---
Special Offer -
reed case free when you order 5 reeds.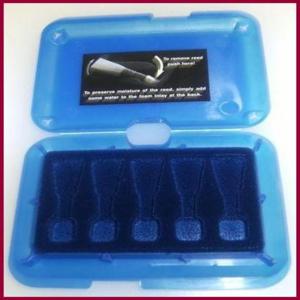 Shepherd - solid and robust.

Chesney - easy to blow and good pitch straight away.

Morrison - more mellow - bit flat to begin with but stable and nice for easy blowing; easy after initial play.
If you tell me your preferences, I will personally select the reeds for you.
---
YouReport.
Shawn Husk, Warren, Ohio, U.S.A. wrote: Well now, your Unforgettable memories last month were absolutely hilarious my dear friend! haha, underwear around the ankles??? hahahaaa!!!! Too much! Thanks for sharing that, you are a brave, brave man!:). Here's mine:
****************************************************************************************************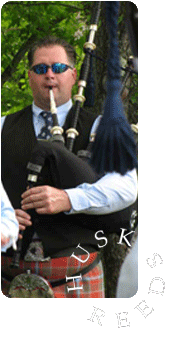 One of my fondest piping memories and completely unforgettable was the first time I got to hear Iain Macey play. He had been invited to teach a piobaireachd class at the North Coast of Cleveland's band practice. They had several top pipers in that weekend to help with the band and Iain was to teach a small group of students about piobaireachd. He taught us Clan Campbell's Gathering and it was a really great class. Later there was a wee ceilidh in the basement of some old building. It was cramped and warm and there was much beer being consumed, i.e. a right old time to be sure! There was an older local guy there playing the uilleann pipes and it was a very nice atmosphere. Lots of great conversations going on all over the room, mostly centered on piping. It was quite noisy. Then Iain was announced. As you can imagine there was still a lot of noisy conversation going on as Iain entered the room. He composed himself and then struck up the pipes. They were absolutely in tune and just sounding gorgeous. After about 10 seconds you could have heard a pin drop. Every conversation had ceased and the entire room had his full attention. After a quick doubling variation, he was settled and confident and began to play Clan Campbell's. We were all completely spell bound for the duration. Not a single peep was heard through the entire tune. It was mesmerizing to say the least. His pipes were absolutely magnificent, not a single note even close to being anywhere but spot on, and his drones were one solid wall of sound, the bass and tenor's perfectly matched and you could not tell one from the other, and the way they blended with the chanter was just heavenly. I later found out why that sound was so impressive. A sheepskin bag and full cane, MacDougall drones from the 1800's and a beautiful Naill chanter, everything in perfect balance and harmony. When he was finished there was a strange pause of at least 5 or 6 seconds which seemed an eternity and then the whole group of us erupted into outrageous applause. It was the finest example of piping I'd ever heard and it will always live in my memory as a very special and unforgettable moment. Keep the newsletters coming - I look very much forward to them each month!
*******************************************************************************
Thanks Shawn, and please check out Shawn's website and his passion for reeds.
If you would like to report on any aspect of the Piping World from wherever you live, or if you would like to comment on any articles or issues, we'd be pleased to hear from you. mailto:bill@beggbagpipes.com
---