------Est. 1980 Glasgow city centre's oldest bagpipe shop------
click on the banner for our home page
---
Dear Piping Enthusiast,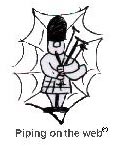 Glasgow is now gearing up for one of the biggest events of the year - PipingLive! My spot is confirmed at the marquee outside the National Piping Centre for Tuesday August 7th at noon, so if you are around, please come along and say hello. In addition to plenty of my entertaining chat (!), I will be honoured to present the City of Regina Mini Band from Saskatchewan, Canada along with Edward Seaman and his 6 piece band - they are launching their very first CD so this will be a very special occasion. I have also booked the sun, but if normal Glaswegian weather prevails, we will still have a great time.
We have reached U in our A-Z of Piping and so it's not far to go to the end of the alphabet - what on earth will we do about X and Z? U is for Unforgettable and so please let us know of any piping stories that stick in your mind and which are completely Unforgettable.
---
Barry Manilow and the world of Piping briefly touched base the other day. Brian Donovan, editor and operator of Barry's audio/video live presentations,
is a great collector of musical instruments
from all over the world, particularly when he is on tour with the show. They recently played Glasgow's SECC
and Brian popped into my shop. In addition to being a really nice guy, he is a talented multi-instrumentalist
and singer songwriter. You can find out more from his website and hopefully, we shall see a reference
one day to his experience with his new set of Begg bagpipes.
---
A-Z of Piping - a Personal View by James C. Begg
Well, where do we start? Some moments stick in your mind forever - was it the time your pipes were "singing" and there was no-one around to hear them? Or more likely, was it the time they were "howling" and you were glad there was no-one around to hear them?! It's the nature of the instrument that it will bite you on the bum when you least expect it and maybe that's the attraction - the challenge is to defeat the beast! I have many memories and could write a book on the subject. Some of the more memorable seem to come when you do a gig for a wedding, like the time in the green house on Glasgow Green when the bride's mother asked me to play Star Wars or when another lady at the same function approached me and said " Do you think I'm sexy" - don't know whether she was referring to Rod Stewart or wanting to meet her round the back. One of the most horrific weddings was on a really hot day and I got to the venue in plenty of time, or so I thought. The pipes were not enjoying the warmth and as I sprung the cane bass, it snapped in two. To my horror, I then looked up to see the bride's limo approaching. I froze. What to do? In a flash, I got hold of what was left of the reed and turned it round the other way and hoped for the best, even although there was a 2 inch gap where the tongue used to be. Luckily, I just got away with it, and the (non-piping) congregation was none the wiser. The reed itself was a favourite and real beauté, but I had used it for some 10 years and I guess age caught up with it. This was how to learn a lesson the hard way.
I have all sorts of memories from people coming into the shop, like that of a well-known accomplished piper who also has a great sense of humour. He once stated with a dead pan face that "I can play Scotland the Brave as well as any man". Then there was the time a customer bought a case from me and wanted to make sure his pipes fitted properly. I duly obliged, put his pipes in the case and closed the lid - somehow, the case locked itself and we couldn't get it open again. He ended up having to leave his pipes with me and after some time, the supplier of the case managed to get it open. Needless to say, we supplied a different case at a discount, to try and compensate him for the inconvenience.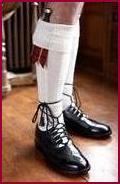 On another occasion as a young man, I was playing at the City Chambers in Glasgow. In these days, I only had ordinary shoes since I couldn't afford ghillie brogues. Just before I was due to play, a certain Duncan Johnstone said to me: "What size are your feet?" When I replied I was an 8, he said that I should take his ghillie brogues. So can you imagine how far up the scale of Unforgettable this was?! I walked tall that day and there are not many people who can say they filled Duncan Johnstone's shoes!! I subsequently went on to study under the great man for some 30 years.
Piping has taken me round the world and left me with unforgettable memories, like that of a trip to Africa. I was in Kenya for the launch of the Land Rover Discovery, attired in full regalia and feather bonnet as the tropical sun beat down on me. I endured this for a few days and as a thank you, a trip in a minibus to the Maasai Mara was arranged. However, the sun/change of food and water/ piping exertions caught up with me on that horrendous road to The Mara and I left parts of me behind in Africa. Another unforgettable time was with that legend of piping, Willie Cochrane. We were doing a band performance in Taormina, the jewel in the crown of Sicily, Italy. This is an area frequented by the rich and famous and where high standards of dress and etiquette are the norm. As we travelled to the venue in a bus, I felt my underwear was somewhat less secure than usual but being seated, I put the thought to the back of my mind. Outside the bus, we struck up and started marching briskly along the seafront. With large crowds lining the route, my worst fears were realised as my briefs started a slow, but steady movement southwards. In a panic, I stopped and swiftly removed the embarrassment from my ankles. In another flash of genius, I chucked them into the sea and of course by this time, the drum corps had caught up to my stationary position. You can imagine the ribbing I got from the band members and goodness knows what the public thought. At least by then, I was in full blown commando mode as it should have been from the start! Back in Scotland, I once played for a rally in the cause of Racial Equality and the plan was to march from Glasgow's Blythswood Square to George Square. I was slightly apprehensive beforehand and my fears were confirmed when it turned out there were more of Strathcyde's finest police in attendance than participants in the rally. As we marched past the massed ranks of baying skinhead neds, I think we moved swiftly from our normal marching tempo of sub 100 beats per minute to something closer to the standard of the Cameronians at 180 per minute!!
You all must have your own unforgettable piping moments - some great and some not so great! Would you like to share them with us? If, so please drop Bill a line on bill@beggbagpipes.com
---
Field Report
- Scottish Championships, Dumbarton
It was a great start for Begg Bagpipes down at Dumbarton and I hope you saw our News Flash about the top four bands in Grade 1 being powered by Begg Bags. I was pretty impressed with the tone of these bands (FMM, the Power, Inveraray and Strathclyde Police) and of their overall performance - FMM were however in a league all of their own with a really strong pipe core and many of them. Torphichen and Bathgate (on the attack in photo) are showing signs of good progress and will improve as they gain experience, whilst the Vale of Atholl were interesting and have closed the gap between themselves and the leading bands. Denny and Dunipace, also Begg Bag customers, did well in grade 2 and it's really nice to see bands that I deal with reaping the rewards. here was something for everyone at the event but I'm not sure that the fun fair does much to support the atmosphere on such an important occasion. *********************************************************************** (Foot note to Robert Wallace, College of Piping, as we continue some recent banter - "Rab, am I being a stick-in-the mud about the fun fair?" Check out the Piping chat in his excellent Piping Times Editor's Blog)
---
Special Offer - Practice Chanter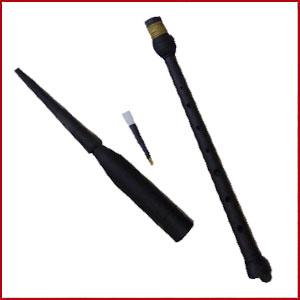 Reduced for the month of June to £12.50 plus vat if applicable (from £20.94 plus vat).
Buy 5 or more for £10 plus vat each.
This is an inexpensive practice chanter, which is injection moulded with a sweet tone. Offer includes a reed and is an ideal starter model. It is non breakable and as a bonus has counter sunk holes. Ideal for learners.
---
YouReport.
If you would like to report on any aspect of the Piping World from wherever you live, or if you would like to comment on any articles or issues, we'd be pleased to hear from you. mailto:bill@beggbagpipes.com
---