------Est. 1980 Glasgow city centre's oldest bagpipe shop------
click on the banner for our home page
---
Dear Piping Enthusiast,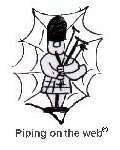 I was sad to see the passing of the legendary piper Donald MacPherson. I met him on various occasions and whilst he was a very quiet man, I always found him kind and interesting. He made playing the pipes look so easy and he hardly ever broke sweat - his fingers moved easily and if you ever you wanted someone to be called a master, then look no further. Piobaireachd of course was his speciality and he delivered flawless performances every time. He also excelled as a composer - check out his Curlew jig, which is a classic and so different from the norm. He made a huge contribution to the world of piping and will be sadly missed.
---
News.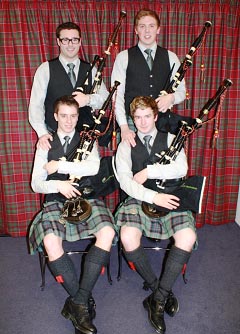 We had great evening at the National Piping Centre for the launch of this year's Piping Live! Everyone enjoyed the playing of Calum Beaumont and his band Ruara and also that of the Scottish Power pipe band quartette (see photo). They encapsulated what the festival is all about – youth, diversity and quality plus something that appeals to all. I have the pleasure again of sponsoring the street cafe outside the Centre on 7th August and have invited the City of Regina mini pipe band and guests at 14.00. I am also hoping that a great up and coming player, Edward Seaman, will play again this year if he can tear himself away from the final year of his piping degree course. So if you are around the Glasgow area in August, please come along and say hello. I had some press coverage recently in Scotland's leading quality newspaper, The Scotsman, about sheepskin availability and now have had a follow up request from a radio station in Boston, USA to do an interview – I suspect the latter may be approaching this along the lines of "Nessie" or " what Scotsmen wear under their kilts" but let's see. Check this link to see the article "Pipers lament the sour note of bags made in China".
---
A-Z of Piping - a Personal View by James C. Begg
Is it true that the more things change the more they stay the same? For example, the skins I use currently are certainly not the same as the ones of 30 yrs ago and whilst I maybe don't source them from the same place, the quality has remained consistent and the bags have remained within well established tolerances. All things change over time to some extent but as long as we keep our eye on history and tradition, we can continue to enjoy the fruits of tried and tested craftsmanship as a part of our hectic 21st century lifestyles. If we look at the many years of success of Strathclyde Police under P/M Ian McLellan, it was exactly the same principle - straight-forward traditional tunes played well with a tremendous sound. There was nothing really fancy about it and it was always the same. They had a consistent approach – the 6/8 march Dr Ross was almost always played along with Hugh Kennedy, Men of Argyll and so on - a standard was set and tradition was maintained. What a mess we got into in the 90s as far as bags are concerned - people chopped and changed with different materials, with the result that the bagpipe sound altered and in many cases sounded absolutely atrocious. Did fancy marketing fool pipers into believing that the advent of synthetic materials could somehow replace centuries of experience and tradition? I am not against change and in some cases there can be improvements, such as the blowpipe with a larger diameter. We do however need to be very careful when change actually alters the sound as in the case of synthetic reeds. Can we then call the instrument a bagpipe as we know it, or have we created a new instrument? We see other subtle concepts like "pipes down" being not appreciated in certain quarters. Well it's traditional and it's a sign the band is ready to play - it stemmed originally from army etiquette and it does the job so why change it for no good reason? It sets the scene for what is to come in much the same way as a band forming a circle. It is done for a reason and so what is the advantage in trying other arrangements like an orchestral set-up? Let's focus on playing our beloved instrument and in honing our skills, rather than tweaking things at the edges for no good purpose. We shouldn't be trying to turn the bagpipe into something else – if we do away with Tradition, it will be the rock that we perish on.
---
Name That Tune - the Result
Thank you to all those who took part. We did have a tie, with 6 people having all three correct answers
. So the names were put into a hat and the winner is Chris Grammel from Bochum, Germany. Congratulations to Chris who will shortly be the owner of a Begg hand made chanter. We can now reveal the answers:
February

- The Reel
March - The Strathspey


---
For this month online only, 10% off the leading electronic pipe - the Deger - plus a free, soft carry case.
This really is a superb way to put in many enjoyable hours of chanter practice with the resultant benefits to your playing abilities.
Now only £306 (plus vat if applicable) - free postage worldwide
---
YouReport.
Last month, we were pleased to publish Bob McMichael's article on the benefits of using Skype for long distance piping tuition and we had some nice feedback on it. Bob has kindly sent another article on a different topic - thanks Bob.
Genealogy is growing in popularity around the world. As an American, I'm in the vast majority of US citizens whose ancestors came from another continent. And I'm one of an estimated 40 million Americans with some Scottish or Scots-Irish heritage. Before I began learning the Great Highland Bagpipe, I was only mildly curious about from whom and whence I came. But lately I've been trying to flush out details in my lineage with the hope of finding some great bagpiper from Gairloch or Skye as a direct ancestor. So far, no luck. The closest I've come, with the help of a relative I never knew I had, is a possible connection to a band of cattle thieves from Dumfries. Hardly Highlanders, and certainly nothing to brag about, especially on the piping forums.
Despite the disappointment of the probable Lowland connection (no offense intended to all those from south of the Great Glen), my quest for roots has yielded some interesting things that only augment the enjoyment of my piping education. The most recent example relates to my current favorite piobaireachd, "Lament for the Viscount of Dundee." I learned of this tune from a story Andrew Wright told our class at last year's Couer d'Alene Piping Camp. When he was a kid he liked getting a rise out of his teacher by referring to it as "Lament for the Discount of Dundee." Andrew's story piqued my curiosity, but the real impetus for learning it came from my wife, whose grandmother emigrated to the U.S. from Dundee. I knew nothing about the namesake of the tune, or its geographical place, or even what it sounded like. I just wanted to play something with a literal connection of some kind to a family member, and my wife's grandmother was the closest I could get. Musical beauty is truly in the ear of the behearer, but for me the ground of "Cumha Chlaibhers" is one of the most lyrical, haunting melodies I've ever heard. I'm one of those types of folks who want to know something about the history of whatever it is I'm doing, so I had to find out who the
Viscount was.
Thanks to Wikipedia, I
learned that John Graham, the 1st Viscount of Dundee, was referred to by his non-Jacobite enemies as "Bloody Claverhouse" ("Bluidy Clavers"; but his friends called him "Bonnie Dundee"). He commanded the Jacobite troops at the Battle of Killiecrankie in 1689, winning the battle but losing his life. To my ears, this particular piobaireachd lament poignantly captures the bitter sweetness of this story, and enriches my interest in playing and listening to it.
Yesterday, however, I opened a link to an Ancestry.com page that my long-lost relative sent about our possible cattle thieving ancestors. The first name I saw on the page was "John Graham of Claverhouse." Could this be the connection I was hoping to find? Of course not. I was all but horrified to learn that my putative ancestors had fought against Dundee a decade before Killiecrankie, on the side of the Covenanters. They chased him right out of Drumclog, and – probably – got right back to pinching cows. I think I'll look more deeply into my wife's grandmother's ancestry and see if I can find a connection to Mr. Graham on that side of the family...
If you would like to report on any aspect of the Piping World from wherever you live, or if you would like to comment on any articles or issues, we'd be pleased to hear from you. mailto:bill@beggbagpipes.com
p.s. Bob is in Scotland this week and hopefully will be penning a report for us along the lines of "An American Piper in Glasgow". Watch this space.
---